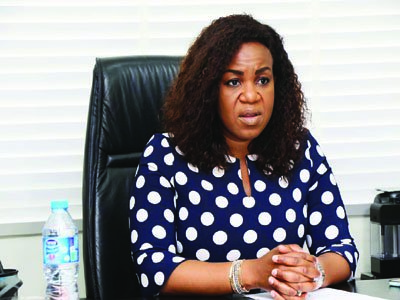 Mrs. Damilolo Ogunbiyi, CEO REA
The Rural Electrification Agency (REA) has worked with the World Bank, African Development Bank (AfDB) and other donor agencies, in the implementation of its projects. In this interview with JOHN OFIKHENUA, its Chief Executive Officer, Mrs Damilola Ogunbiyi, speaks on the country's electrification projects.
Why do you implement projects in universities, urban markets and other cities when there are rural areas in need of electrification?
The Rural Electrification Agency (REA) was established under the Electric Power Sector Reform Act to increase access to power for unserved and underserved communities through on-grid and off- grid channels. In delivering its mandate, various interventions geared towards the electrification of homes, universities, markets and rural communities were conceptualised and approved for implementation. Although REA has embarked on transformative projects that will improve our higher learning institutions, reduce mortality rates and harmful greenhouse emissions as well as increase Nigeria's Gross Domestic Product (GDP), it does not mean REA is not implementing projects that will see rural communities accessing and benefiting from clean, affordable and reliable power supply. This objective is key to the REA that it is implementing off-grid and extension of on-grid projects for the rural communities through the Nigeria Electrification Project (NEP). NEP is an initiative that has  secured $550 million from the World Bank and African Development Bank for solar mini grids and solar home systems at rural communities.
In addition, under REA, the Rural Electrification Fund (REF) has  started providing electricity to rural communities. Notably, REF recently commissioned an 80 KWp solar hybrid mini-grid in Upake, Kogi State with 11 more solar hybrid mini- grids at various stages of completion and soon to be commissioned. And lastly, the REA's capital projects, which implement projects to increase access to electricity through on grid and off-grid projects also targets rural communities across Nigeria.
What informed the making of the Education Electrification Projects (EEP) started late 2017? What is the level of the implementation?
The Energising Education Programme (EEP) was approved by President Muhammadu Buhari in 2016.  It was conceptualised by the Federal Ministry of Power, Works and Housing and transferred to REA to implement as the ministry's implementing agency for power generation, access and supply projects. Access to constant power supply in educational institutions and healthcare facilities in Nigeria has been identified as a major challenge and barrier to effective learning, institutional operations, student residencies and access to quality healthcare. Considering the role of education and health in driving socio-economic development, the Federal Government  (through the Federal Ministry of Power, Works and Housing) resolved to embark on viable projects that would ensure the availability of clean, safe, reliable, affordable and sustainable electricity to Nigeria's Federal universities and University Teaching Hospitals.
Nine universities and one teaching hospital will benefit from EEP Phase 1  while seven universities and two teaching hospitals will benefit from Phase 2 and eight universities Phase 3. Phase 1 is under construction, with Alex Ekwueme Federal University Ndufu-Alike Ikwo (FUNAI), Ebonyi State already commissioned. Bayero University, Kano State and Federal University of Petroleum Resources (FUPRE), Delta State will be commissioned soon.
Is it true that some contractors have abandoned some of the projects?
It must be clarified that REA projects are in varying stages of construction and completion, as evidenced by the projects commissioned recently under the EEP and the REF. Our projects have been tailored with specific delivery timelines depending on the specifications and funding availability.
Please give an insight into the project you inaugurated at the  Bayero University, Kano (BUK).
The EEP project has provided the Bayero University, Kano (BUK) with a solar hybrid power plant with an installed capacity of 7.1 mw, which results in 108,875,120lbs of yearly carbon dioxide savings. The project provides over 55,000 BUK students and 3,000 staff with clean and reliable electricity. Also, this project has installed a total of 694 streetlights across 11.41 km of roads, making BUK safer and more secure for students and faculties. This is the second project that will be commissioned under Phase 1 of the EEP. The EEP project is also committed to gender mainstreaming and fostering gender inclusion in the power sector.  In line with this, 20 BUK female students (under the EEP Stem Female Internship Programme) have received comprehensive practical and technical training during the construction phase of this project.
What level of intervention has REA got from international development agencies and donors?
REA works with several donor agencies, such as the World Bank, African Development Bank (AFDB), United Kingdom (UK) Department for International Development (DFID) and the United States Agency for International Development (USAID).  Our technical partnerships are central to REA's objectives and best practice project implementation. These collaborations also contribute towards capacity building within the agency.
How much loan or grant has REA secured so far?
The World Bank has provided $350 million for the Nigeria Electrification Project while the African Development Bank (AFDB) has provided financing worth $200 million.
At what interest rate do REA contractors secure loans from  the banks?
The REA contractors are best suited to provide this information as it pertains to their company's independent financial arrangement with various lending institutions.
How transparent are the procurement processes of the REA contracts? Why was the agency accused of EEP contracts scam?
REA takes legal and regulatory compliance very seriously. Among securing other regulatory approvals on procurement, it secured all the due process certificates of No Objection from the Bureau of Public Procurement (BPP). Based on BPP compliance, REA awarded contracts to the successful bidders for the Engineering, Procurement and Construction (EPC) of the EEP Phase 1 projects and the Operations and Maintenance (O&M) after satisfying regulatory requirements in its procurement process. REA also secured approval from the Federal Executive Council (FEC) to award the said contracts, following its comprehensive and objective review.
You recently came up with another programme, Energising the Economies Initiative (EEI). What is it about?  
The Energising Economies Initiative (EEI) is another government intervention that aims to provide clean, safe, affordable and reliable electricity to economic clusters across the country. The project also aims at unlocking power (a key growth barrier for micro, small and medium enterprises (MSMEs) in Nigeria) for job creation, enabling over 340,000 (MSMEs) and creating over 2,500 project-related jobs. It specifically seeks to support the rapid deployment of off-grid electricity solutions that will energise and empower economic clusters in Nigeria. Key EEI focus areas are clusters of economic activity, which includes markets, shopping plazas/complexes and industrial clusters. The project is private sector-owned and private sector-led. The Federal Government, through the REA, creates an enabling environment for the implementation of the project.  The first phase consists of 16 markets under implementation and targets 80,000 shops, providing electricity to more than 340,000 SMEs across six geo-political states – Lagos, Kano, Abia, Ondo, Ogun, and Edo. The Energising Economies Initiative is recording significant success with the commissioning of Ariaria, Sabon Gari and Sura markets, where jobs are being created and businesses recording growth. Additionally, the markets are free of harmful generator fumes and noise thanks to the decommissioning of diesel generators. This has resulted in a more conducive and environmental-friendly market environment.
What is the financial status of the REF?
The financial status of the Rural Electrification Fund (REF) is reasonably healthy. In strict compliance with Federal's Government regulation, we continue to follow budgetary and financial requirements for REA projects to be sufficiently funded.
What are the challenges for the REA?  What should Nigerians expect from it this year?
The REA is implementing many laudable programmes and initiatives aimed at improving the livelihood of Nigerians; in trying to achieve this, funding is required. Therefore, the REA is utilising available funding and also exploring alternative funding sources. For instance, Virtus, a private developer, received N446milion funding boost from Sterling Bank to power more markets under the EEI. We are working to mitigate challenges that will result in scaling such financial interventions to other private developers. For the remainder of the year, REA will focus on conducting energy audits at markets across the country to expand the EEI and commission completed projects. The REA has also launched the Nigeria Electrification Project, where we will see the utilisation of the World Bank and AfDB funding for the provision of electricity to communities through mini-grids and solar home systems.  We will implement and scale Phase 2 and 3 of the EEP across Nigeria.
REA Capital Projects will continue to be implemented to increase electricity access through the national grid as well as other renewable energy sources.Gender empowerment in the power sector is core to REA activities; therefore, its gender-focused workshops are scheduled for this year to encourage female participation in the energy sector.
News source: https://thenationonlineng.net/how-rea-is-delivering-on-its-mandate/